Images from Function VI
After a seven-year absence, Reactor's Function events returned last month with Function VI.
Function is a testing ground for experimental and collaborative ideas. A series of events, where Reactor act as curatorial body, bringing together a number of artists to develop objects, installations and performances; creating an all-encompassing 'total experience' that consumes its participants (both artists and audience) and challenges them to take an active role in how the event unfolds, where choices and behavior decide the shape of the experience.
Prising open the doors of a disused and dilapidated building, Reactor invited participants to enter, navigate its confined space, and help bring Function back to life.
On Saturday 20th of October, as the evening gloom settled over Nottingham, I was on hand to document. Here are some of my images from the event: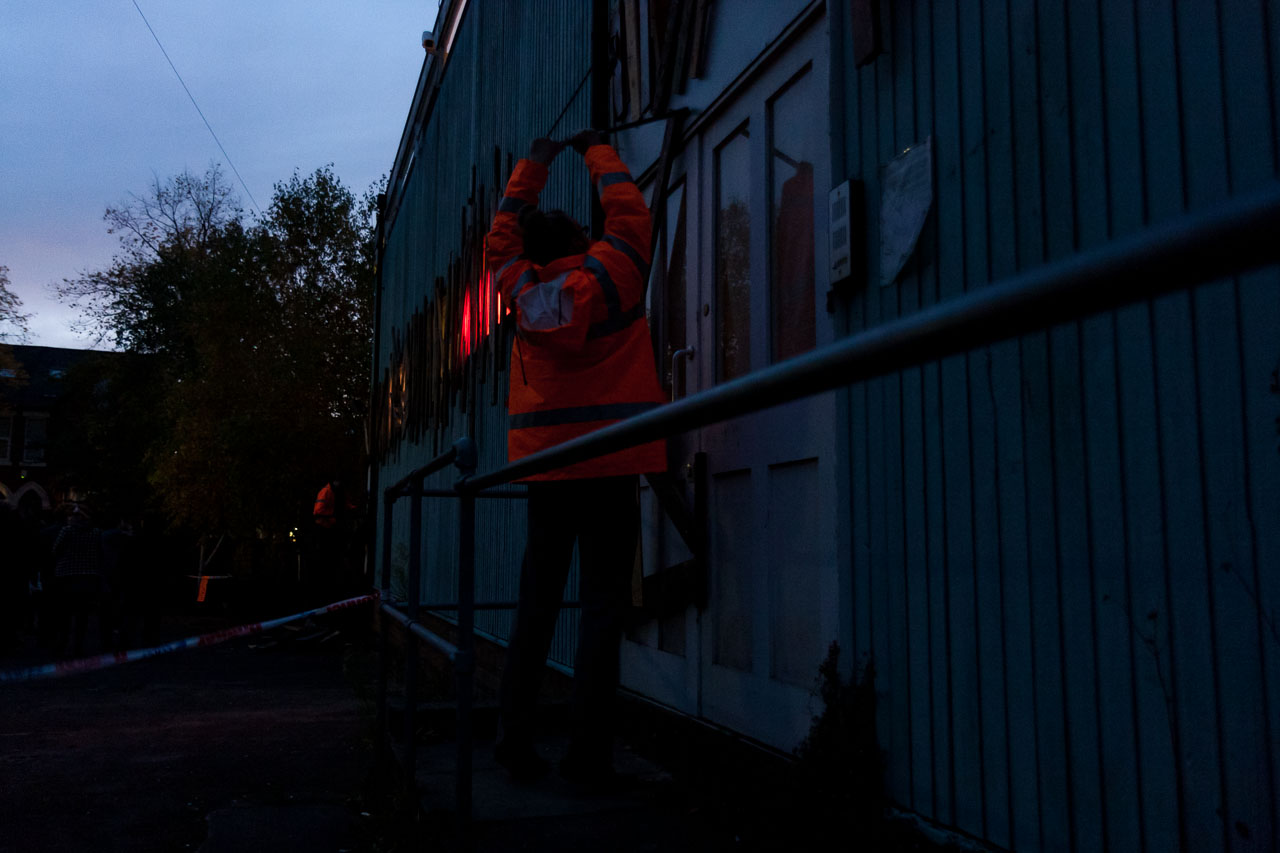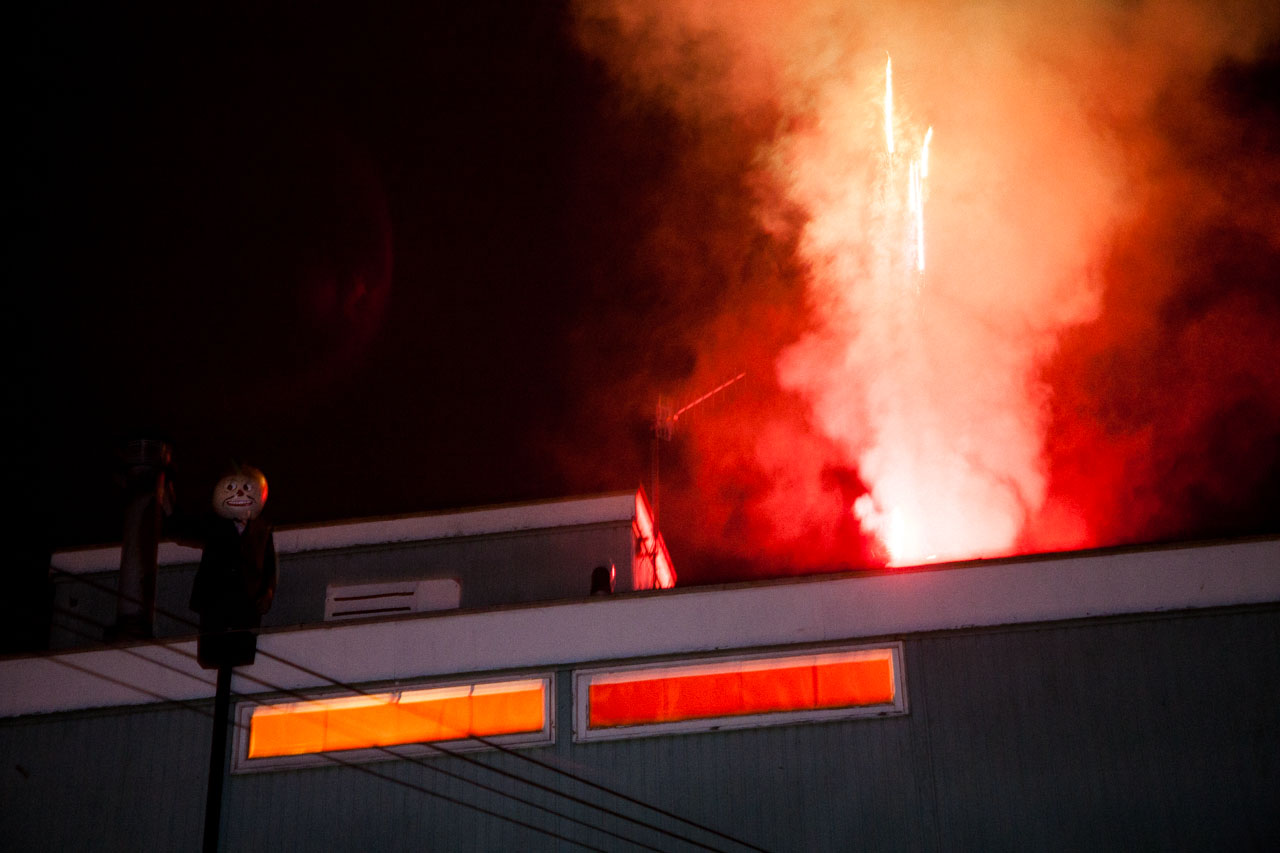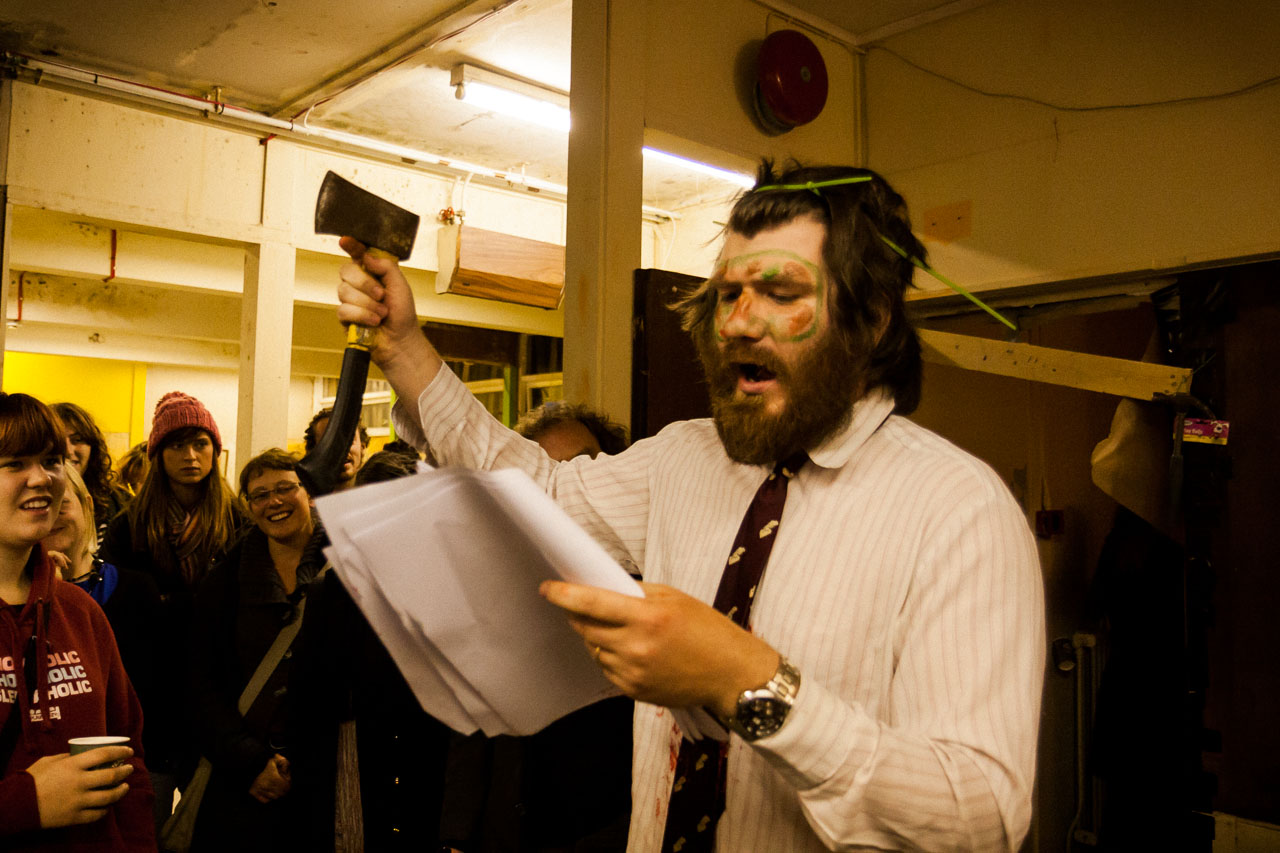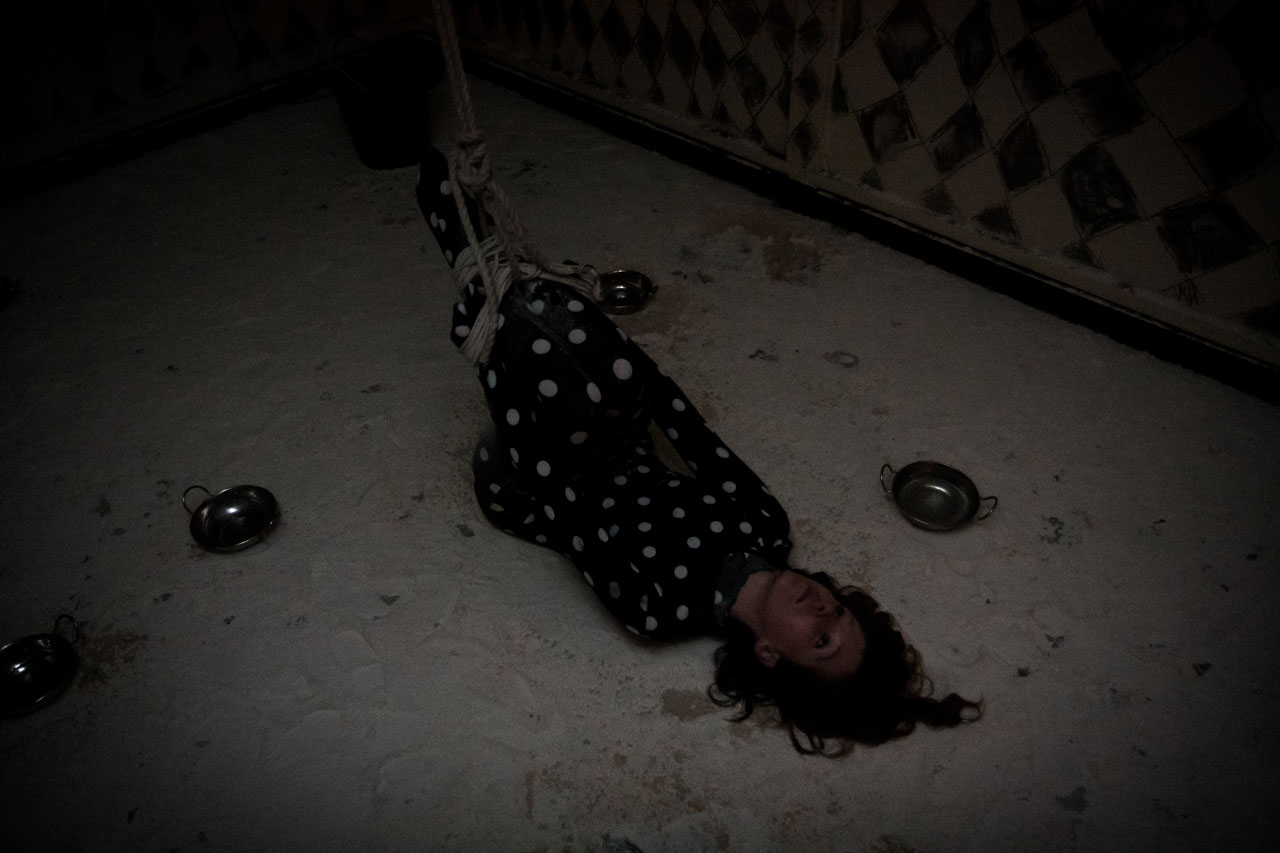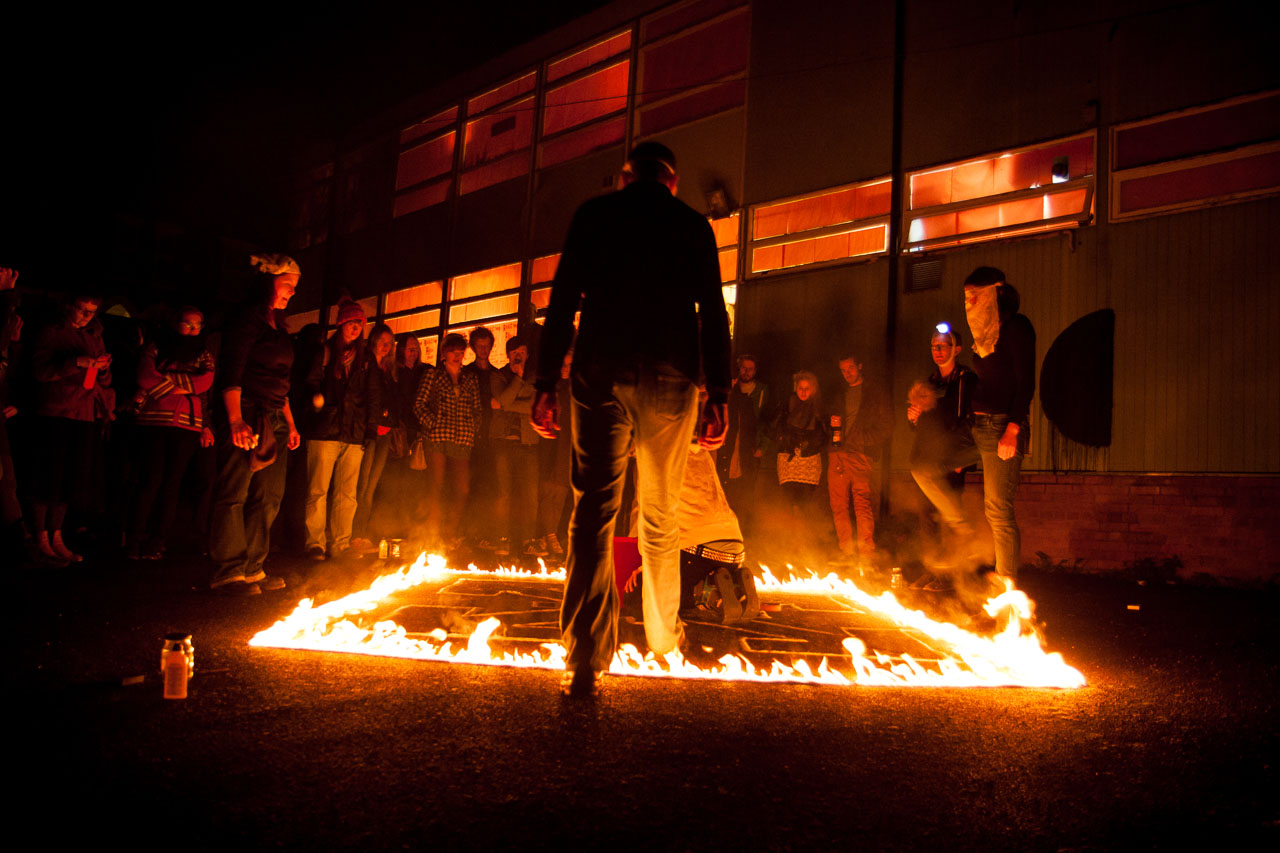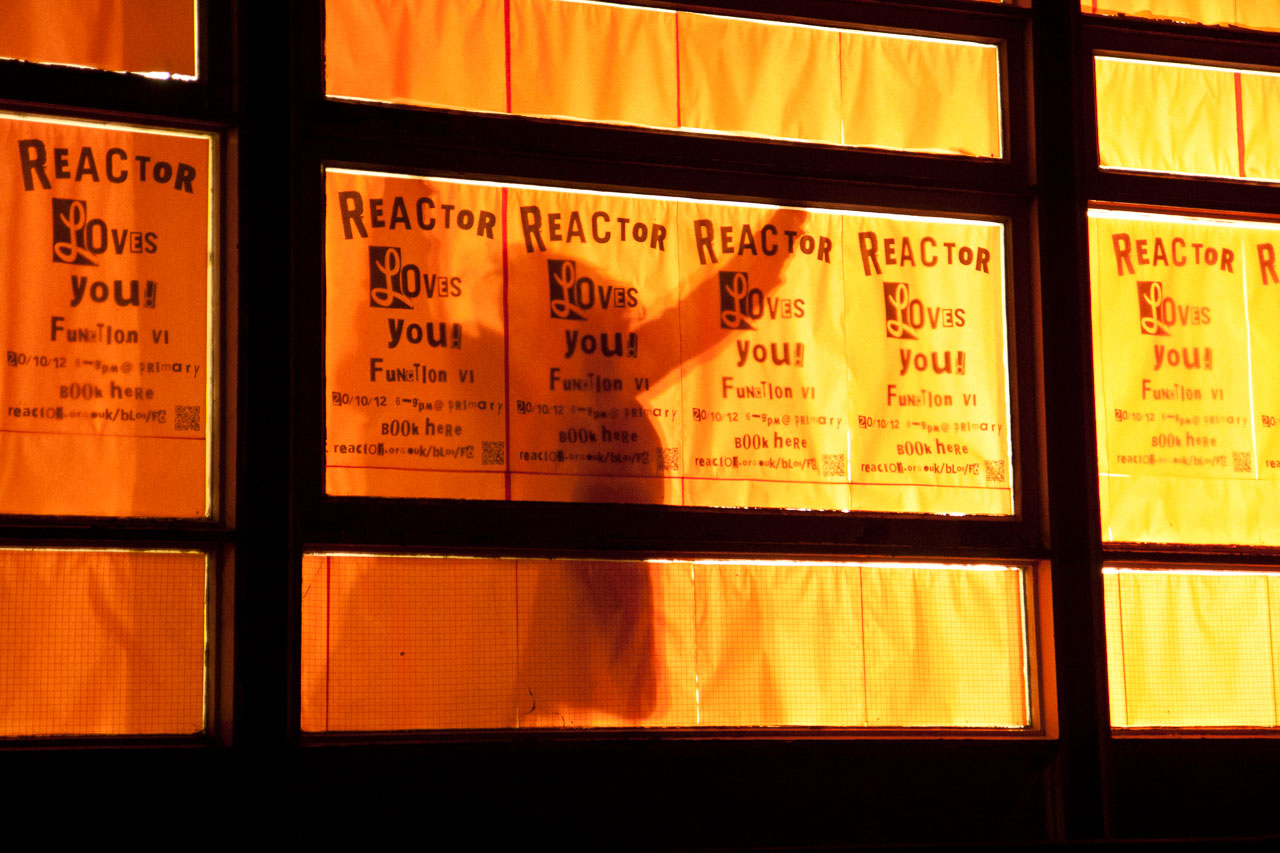 Function VI featured the work of: AAS, Bruce Asbestos, AuntyNazi, Amelia Beavis-Harrison, Robin Close, Phillip Henderson, Robert Holcombe, Mark McGowan, Simon Raven, Tether… with a hint of Reactor.
Further events up to Function X are in the works.
Sunday Lunch at The Green Man
Here are some of the photographs that I took at Reactor's The Green Man & Regular Fellows. The event took place in Nottingham across Friday, Saturday and Sunday evenings of the last weekend in September. In honour of traditional pub opening hours The Green Man also had a Sunday lunchtime opening, where I took these photographs, featuring a pub quiz with a Harvest Festival hamper prize.
I only briefly stopped by the The Green Man on Friday night, before heading off again for a friend's birthday meal. But I was there all night Saturday (including the lock-in), for Sunday lunch, and then back that evening for last orders.
Scroll to the bottom of the post for reviews by Aaron Juneau and Jack Vickers.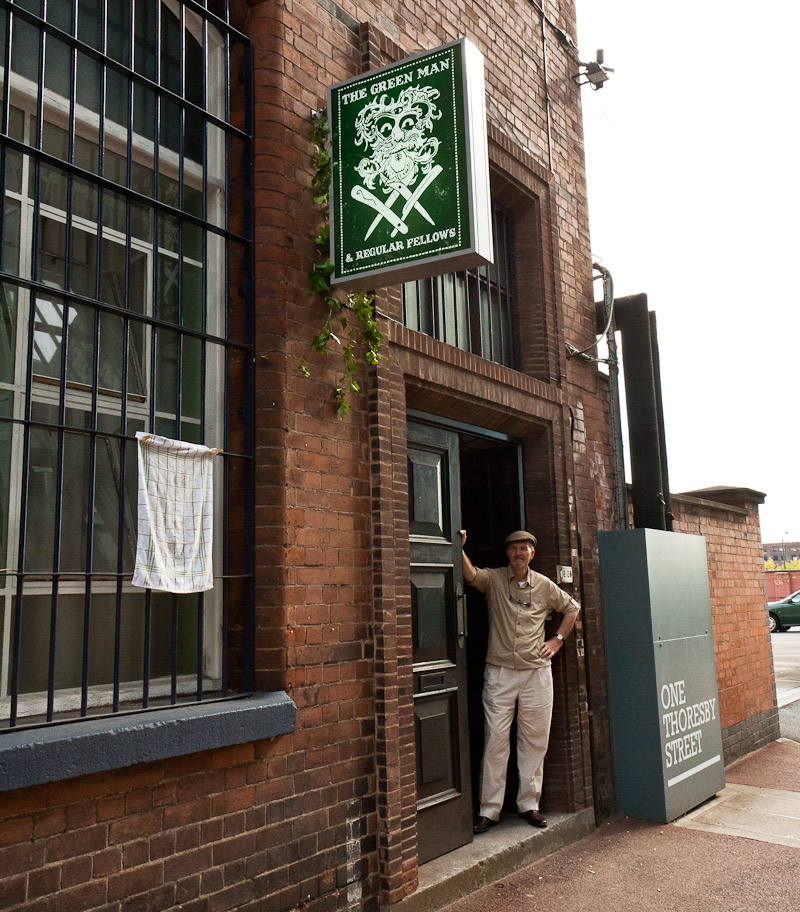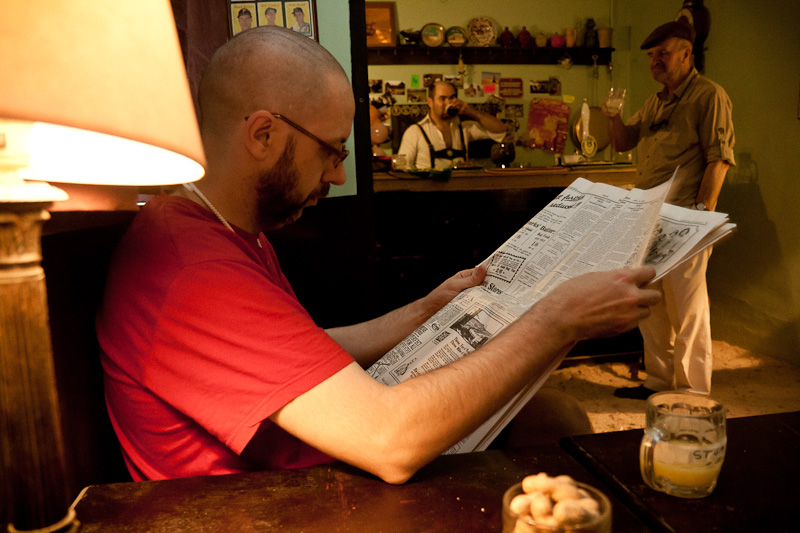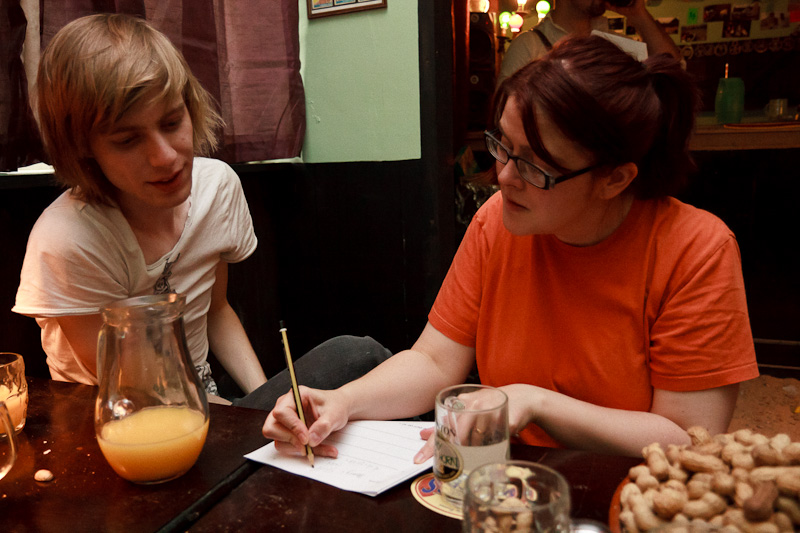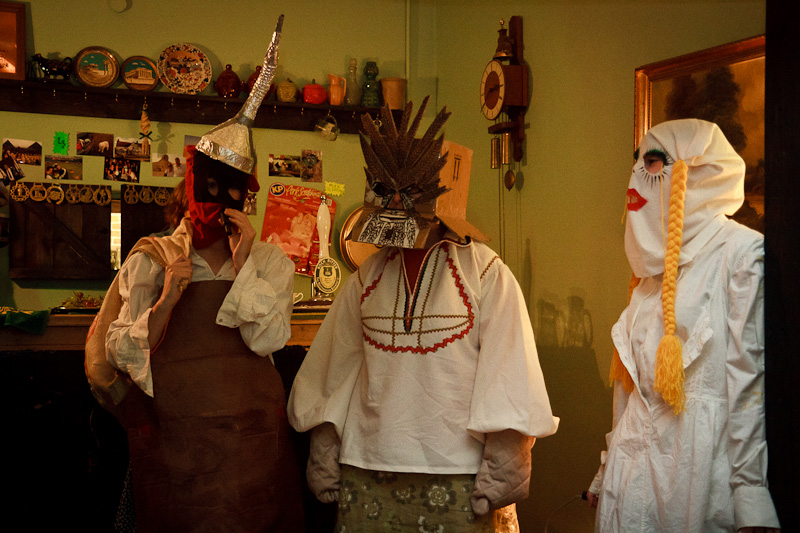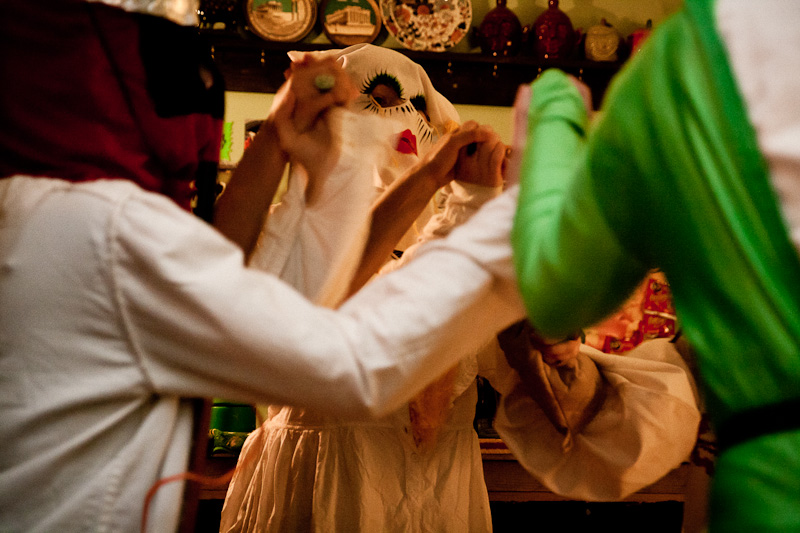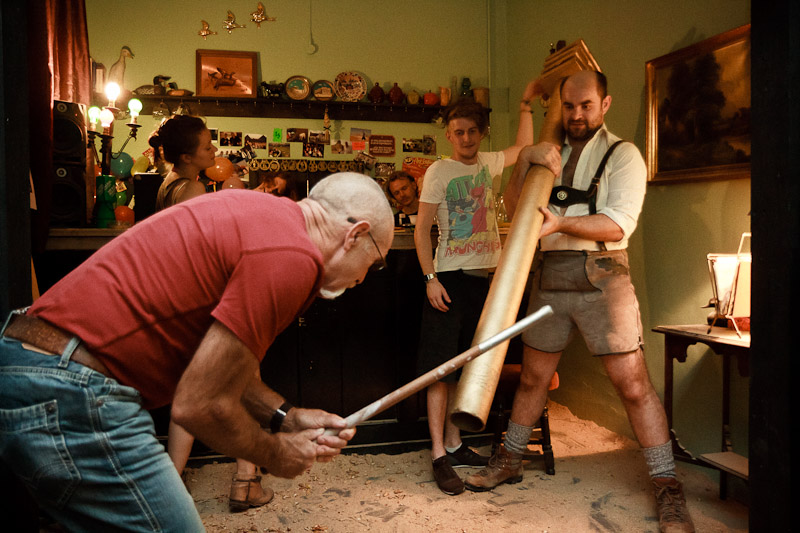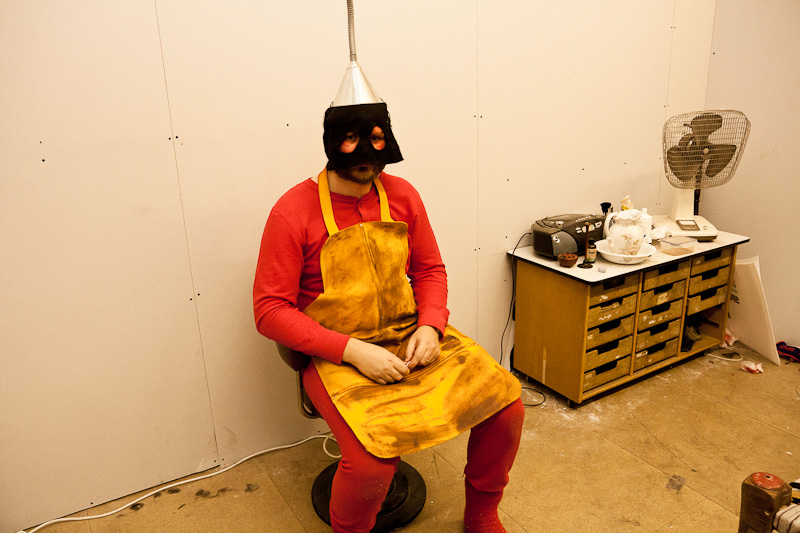 Reviews:
Friday 30 September & Saturday 1 October: 6 pm - 11 pm
Sunday 2 October: 12:00 pm - 2:30 pm & 6:30 pm - 9:30 pm
There's something brewing in Nottingham… For three days only, Reactor are opening a members-only pub, "The Green Man & Regular Fellows".
The Green Man & Regular Fellows is a newly commissioned, live artwork in the form of a pub, complete with adjoining function room. Here Reactor's interest in the the nature of membership as a social construct manifests itself in a series of temporary groups and levels of fellowship. The structure of the work plays with the traditions and conventions of the 'public house' and 'private members' clubs', producing unexpectedly dis lodged behaviours.

This brief materialisation of The Green Man & Regular Fellows presents a set of mysteries, inviting speculation about its symbols and purpose. Where did it come from, and who is it for? The Green Man & Regular Fellows offers membership, invites you in for drinks and provides a rich environment of song, laughter and games. As the Landlord calls upon the Regulars to lend a hand and the more Irregular members burst out of the back rooms, the atmosphere increasingly becomes more intense and behaviours more frenzied. It will soon become clear why our Regular Fellows like to come back time and time again.
The project will take place place at Trade Gallery, Nottingham (UK): www.tradegallery.org
Apply for membership here: http://www.thegreenman.vze.com/
See you there?
18-19 June 2011, University of Warwick
Stuart Tait and I have been asked to make a presentation on Reactor at the Virtual Futures 2.0 conference. Here are some details of the conference from their website, and a little on what we have planned:
Cyber Conference on Art, Performance, Philosophy and Emerging Technology

Virtual Futures is an interdisciplinary conference. This year' highlights will include presentations on artificial intelligence, bioengineering, bioethics, cybernetics, net security, performance art, social media, the future of copyright and virtual reality. Returning speakers will be joined this year by a fresh array of world-renowned practitioners.
The list of main speakers is here:
http://virtualfutures.co.uk/vf2011/speakers/
The full programme is here (we're 15:20-15:40 on Sunday):
http://virtualfutures.co.uk/vf2011/programme/
And here's our abstract:
http://virtualfutures.co.uk/vf2011/programme/reactor-assemblages/
The presentation will discuss the work of UK-based art group Reactor from the perspective of one 'guest' member, Stuart Tait, and one ex or virtual member, Jonathan Waring. The presentation will take the form of a dialogue between Tait, who will be present at the conference, and Waring, who will be presenting via video projection.

Reactor's practice creates 'microcosmic worlds' that thematically draw upon recognisable social forms, such as totalitarian states or self-help groups, in what artist and writer David Burrows refers to as 'performance fictions'. These new collectivities are then performed or enacted in collaboration with audience-participants who take up positions within the work.

The presentation will begin by considering Reactor projects as 'assemblages', drawing upon the writing of Gilles Deleuze and Félix Guattari, and Manuel DeLanda's development of their work in his Assemblage Theory of society. Erving Goffman's concept of 'role adjustments' will then be used to discuss the way participants' change positions within a project as it is enacted. The presentation will explore the relationship between the project, as it is actualised, and its virtual dimensions, such as the characteristics of a particular role, back-story for the project, memory, or project planning. Finally, Deleuze and Guattari's concept of the diagram will be discussed in relation to Bergson's cone diagram and the counteractualisation of the project back into the virtual of co-participants' minds.
Date: Sat 13 Nov, 9:30-21:15, Chelsea Theatre, London, £30/£20(students)
Daniel Oliver will be present a paper discussing 'The efficacy of insincerity in Big Lizard's Big Idea' as part of the one day symposium 'A Make Believe World' during this year's Sacred Festival.
Big Lizard's Big Idea, 2009 (promo, 01:12)
In one of last month's posts I outlined Reactor's pivotal 2005 work Total GHAOS. A work which came to define the group's interests and mode of practice, as well as—more personally—marking the beginning of my four-year immersion in this practice as a member of the collective. Big Lizard's Big Idea was the final project on which I worked with Reactor. Initially co-commissioned by the Donau Festival (Austria, April-May 2009) and Wunderbar Festival (UK, November 2009), the project then happened a third time without my involvement at Schirn Kunsthalle's 'Playing the City 2' (Germany, September 2010).
Daniel's paper will, "...evaluate the efficacy of Reactor's practice of 'relational insincerity' by comparing the performative force of our behaviour as participants in the Big Idea with our behaviour towards the 'big Other' of liberal capitalism. This comparison employs Slavoj Žižek's elaboration of 'the performative force of ideological illusion itself', and David McNeill's discussion of 'Corporate Sincerity' and 'Pragmatic a-sincerity'".
Unfortunately I am unable to attend the symposium due to other commitments, but the outline Daniel has sent me is intriguing and I look forward to reading the paper in full. Hopefully—with Daniel's permission—I will be able to reproduce and discuss it here in more detail in the future.
A full programme for the symposium can be downloaded here and booking information can be found here.
On this day, five years ago, following a campaign of street actions, 'raleighs' and worldwide stickering, the Dark Arts regime was finally overthrown. Cousins around the globe engaged their I.C.S. [Inner Conceptualising Space] and worked together to achieve the collective ideals of GHAOS and the 'Reactor Party': Total GHAOS was realised.
Total GHAOS was a microcosmic society built from scratch, a multi-storey scaffolding utopia (inside an otherwise unassuming—but spacious—light-industrial unit), and absolute replacement for the old world outside (which no longer existed).
Total GHAOS, Reactor (2005)
Entering Total GHAOS cousins left behind their old identities, timepieces, and mobile phones in order to begin their new lives. As GHAOS Actors [i.e. the audience] they sacrificed their own opinions to become cogs in the GHAOS machine. Hundreds of GHAOS Actors were required to perform simultaneously in order for the system to function, eliminating the last traces of REXist non-participation.
Following an interview and bureaucratic processing, new cousins each received their workpass, badges and Party manifesto. They were then given their first role: perhaps it was the mundane but essential function of 'unit clock', counting out—by hand—the units of time that regulated work and play within the microcosm; or maybe their task was to replace the person who had interviewed them—the dynamics of authority becoming suddenly reversed, as they were themselves charged with interrogated newer arrivals (whilst bluffing through their own limited knowledge).
Total GHAOS encompassed hundreds of interlinked roles in its hierarchical system. Cousins could find themselves in the lower levels: working on the potato farm, or drafted into the army. Or perhaps, as a result of hard work in the badge-making factory (making badges for new cousins), they found themselves moving upward, gaining access to higher strata jobs and cultural activities: becoming curator of the Museum of GHAOTIC Artefacts; or a student at the GHAOS Art Institute (KIVPA). For the most committed GHAOS Actors even a seat on the Supreme Council was a possibility.
But the dark suspicion of REXist deviance and non-participation was ever present. Taking their cue from the unblinking eyes of the ever-watchful LYNX (totem animal and emblem of the Reactor Party), cousins remained ever vigilant for the influence of Skepticus REX and the dark taint of REXimalism. Nobody was beyond suspicion, and cousins guilty of REXist behaviour risked re-education in the Arkwright Asylum.
Total GHAOS ran for three days, and when it finished it brought an end to the 'Reactor Party' and the two-year long—rhizomatically developed—GHAOS project. If you weren't there, then our apologies cousin, but Total GHAOS was reached without you.
I first worked with Reactor during the 'Reactor Party' campaign in the lead up to Total GHAOS. Following my experience working with Reactor on Total GHAOS I joined the group, initially as Secret Member (2005-2006) and then as a core member of the collective from 2006 until my departure at the end of 2009.
For the purposes of historical analysis, the GHAOS project website can be viewed at: www.ghaos.org
Reactor's more recent and current projects are documented over at: www.reactorweb.com
The establishment of this blog is a new phase in my practice, and represents a new way of working following my departure from Reactor earlier this month.
My current ideas are forming loosely under a heading of ʻmodels, prototypes, and propositions'. Keep following this blog to find out more.