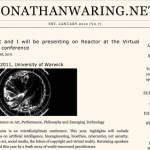 By Jonathan Waring on June 30, 2011
With yesterday's change in Wordpress theme, and a number of other less obvious changes and improvements, I'm finally declaring jw.net out of beta with a v1.0 designation.
Posted in Blogging, News | Tagged Blog, News, posterity, progress | Leave a response
By Jonathan Waring on November 5, 2010
A paper on Reactor and 'Big Lizard's Big Idea' will be presented at Chelsea Theatre's 'A Make Believe World' symposium as part of the Sacred Festival. Daniel Oliver will discuss Reactor's practice of 'relational insincerity', drawing on both Slavoj Žižek and David McNeill to compare the performative force of our behaviour as participants with our behaviour towards the 'big Other' of liberal capitalism.
Posted in Art, News, Video | Tagged Art, Chelsea Theatre, Daniel Oliver, News, Reactor, Slavoj Žižek, Symposium, Video | Leave a response