Archives by date
You are browsing the site archives by date.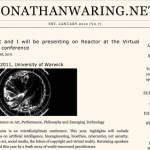 By Jonathan Waring on June 30, 2011
With yesterday's change in Wordpress theme, and a number of other less obvious changes and improvements, I'm finally declaring jw.net out of beta with a v1.0 designation.
Posted in Blogging, News | Tagged Blog, News, posterity, progress | Leave a response
By Jonathan Waring on June 16, 2011
Cyber Conference on Art, Performance, Philosophy and Emerging Technology
18-19 June 2011, University of Warwick
Virtual Futures is an interdisciplinary conference. This year' highlights will include presentations on artificial intelligence, bioengineering, bioethics, cybernetics, net security, performance art, social media, the future of copyright and virtual reality. Returning speakers will be joined this year by a fresh array of world-renowned practitioners.
Posted in Art, News, Philosophy | Tagged Art, conference, GHAOS, Reactor, University of Warwick, Virtual Futures | Leave a response